Do you work in a customer facing role? Perhaps you're a salesperson, a consultant, or even a customer support technician. If so, you'll be aware of the importance of good customer service.
But what's more, you should also be aware of how under-appreciated it is by many businesses. Good service massively increases your sales performance, as well as the number of customers you retain.
Here at Synergi Finance, we have a business mantra, which is: "Service. Knowledge. Value." And as you can see, "service" is the first pillar of this mantra. We pride ourselves on our customer service.
And we also help our vendor partners to offer their own great service by giving their customers a finance payment option. This breaks down the cost of their products into a series of payments.
In addition to sales enablement finance, we give our vendors a list of ten everyday things that they can do to provide quality customer service. These ten things include:
Be positive – A proactive attitude is sure to rub off on your customers.
Respond quickly – Time is money, and your prospects want an answer fast.
Listen – Most companies read off of an answer sheet when talking to customers. Don't!
Know your product – When you know your product, you know how it fits into a business.
Personalise – Everyone wants to have a bespoke solution. Make your products feel tailored.
Problem solve – Solving a problem is the best way to show that you can add value.
Be human – Tell your customers about yourself. After all, people buy from people.
Be proactive – Think outside the box. Come up with creative ways to solve problems.
Keep your word – The worst thing that you can do is over-promise and under-deliver.
And keep in contact – Longevity is the key to customer retention.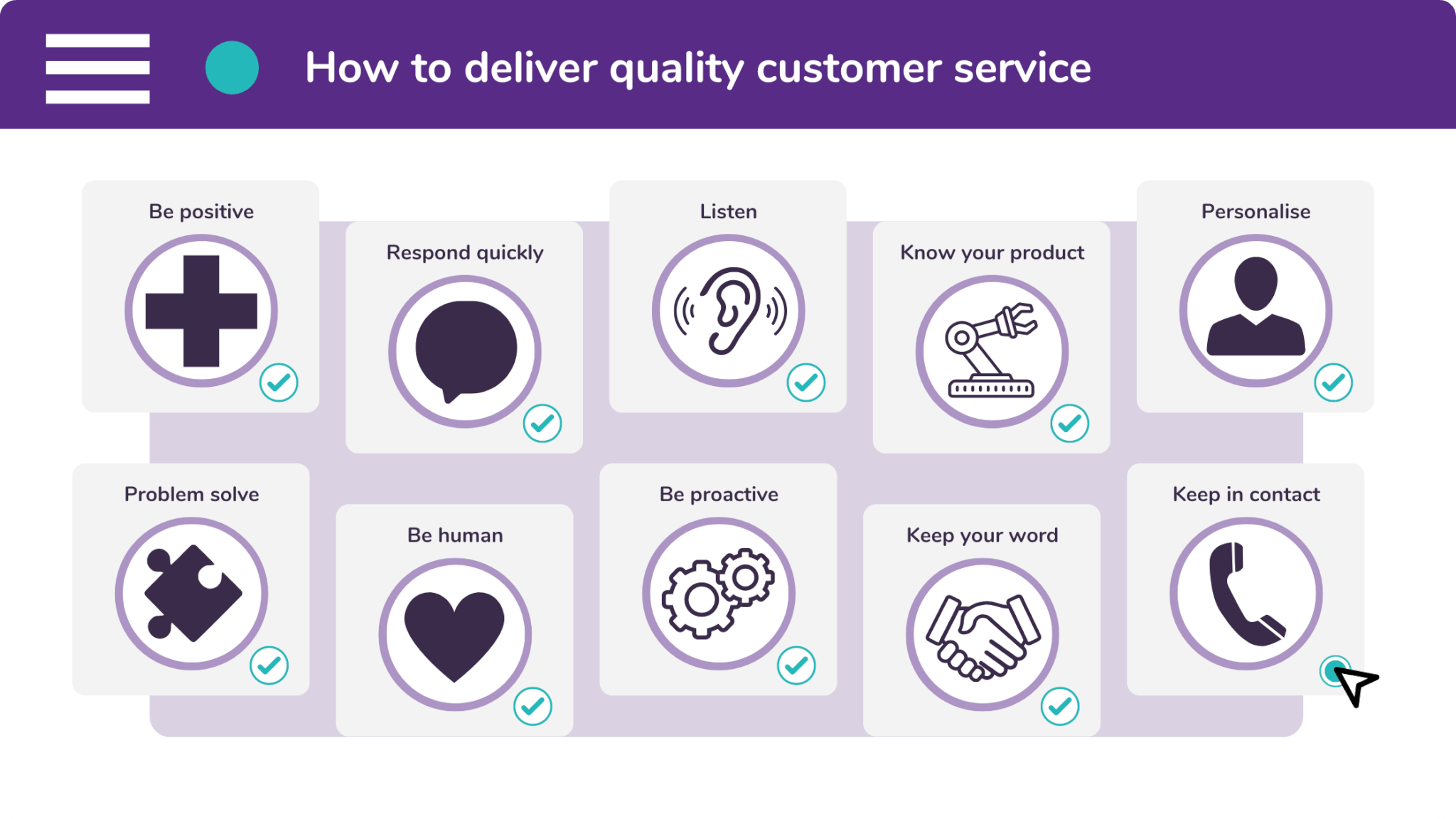 How to improve your customer service with finance
Sales enablement finance is commonly used by the sellers of B2B solutions. These vendors typically offer their customers a finance payment option in order to improve their sales performance.
B2B solutions are notoriously expensive. Therefore, salespeople often encounter budget objections and hesitation. These problems are a drain on their valuable time and stop them from closing further sales.
Sales enablement finance overcomes these obstacles by breaking costs down into a manageable series of installments. As a result, the products look much more affordable and much more appealing.
Vendors who offer finance subsequently go through quicker transactions. They receive full, upfront payment within 24 hours, giving salespeople time to make prospecting calls and pursue other opportunities.
How is this possible? Simple. We invite a commercial lender into the transaction. The lender will buy the solution from the vendor. And the customer will make their monthly repayments to them.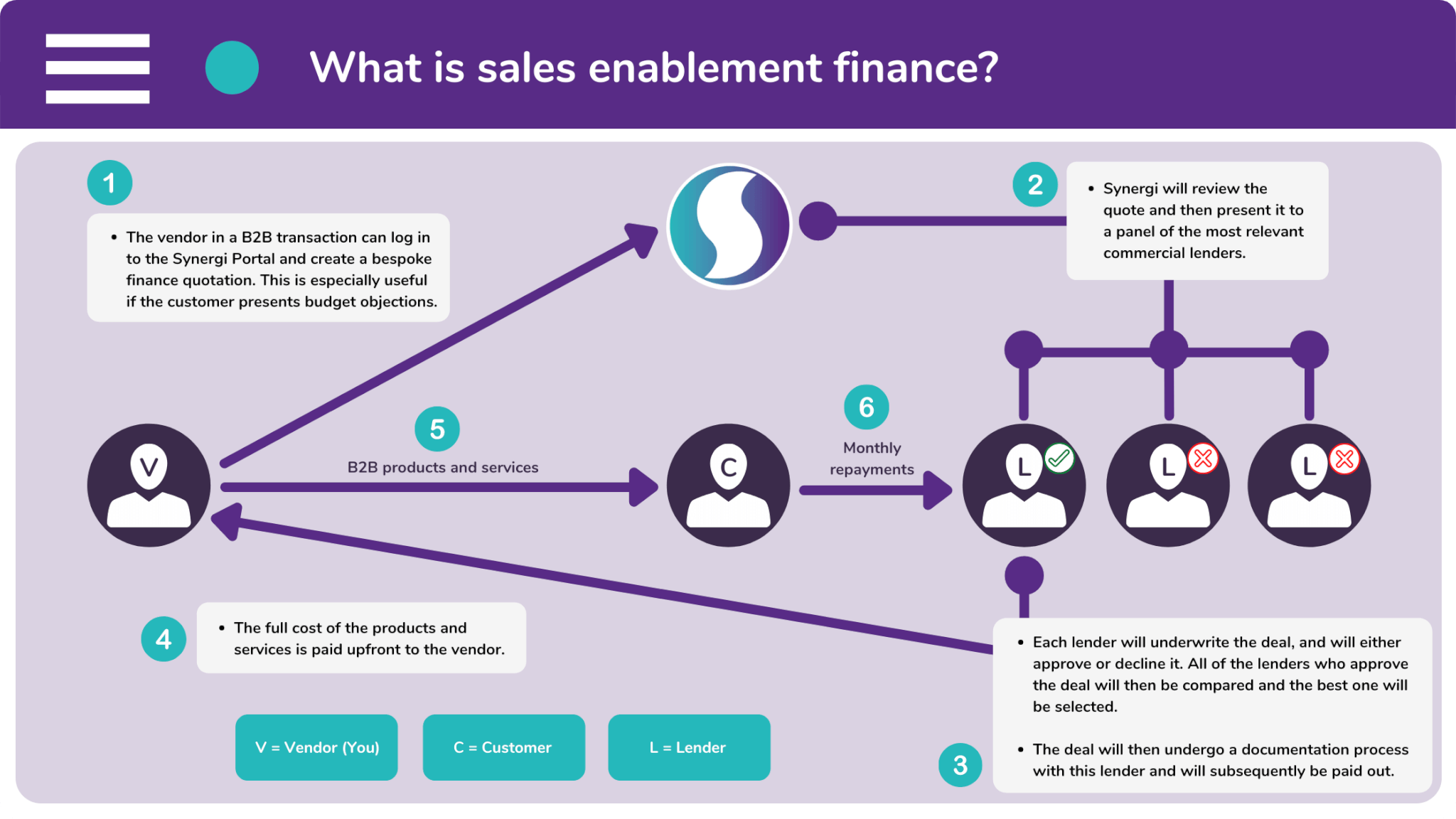 What is the Synergi Partner Portal?
Synergi's B2B vendors offer finance on their products and services through our multi-award winning portal. The Synergi Portal is a sales enablement tool which is free to use. And what's more, it allows you to carry out four key functions. These include:
You can create a bespoke finance quotation for your customer. It will even have your company logo featured on it.
The Synergi Portal is integrated with Companies House and Credit Safe. You can therefore run credit appraisals on customers.
Tell your broker that a quote has been given the green light by converting it into a deal. Synergi will then secure the finance.
And last of all, you can track your deals through the underwriting and documentation process. This keeps you in the know.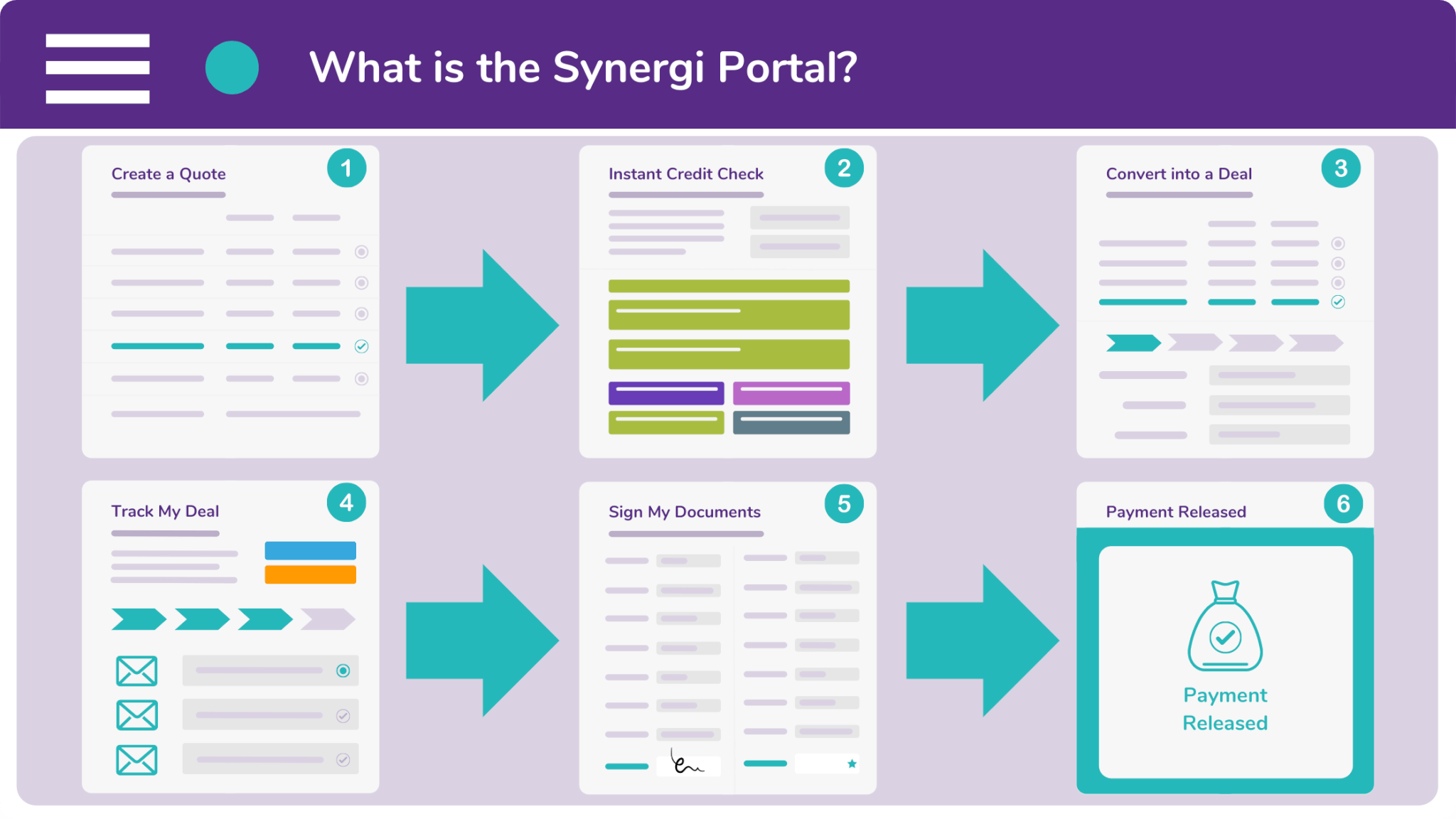 Register for a demonstration of the Synergi Partner Portal by putting your details into our enquiry form. One of our friendly brokers will then get in touch with you to arrange a virtual meeting.
However, if you would like to learn more about sales enablement finance, feel free to contact us on 0333 242 3311. Or drop a line to our offices by emailing info@synergi-finance.co.uk.