What did you watch on Netflix last night? What did you listen to on Spotify this morning? As time goes by, we subscribe to more and more of our daily essentials. And this is also true for businesses.
Hardware as a Service (HaaS) and Software as a Service (SaaS) are becoming more and more popular payment models for businesses that want to invest in their computer hardware and software.
And when it comes to this business model, the vendor (the seller) has two options. They can offer staged payments and take a monthly sum from the customer themselves. Or they can offer finance.
When a B2B vendor offers subscription-based finance, they are paid in full and upfront by a lender. The lender essentially buys the solution on the customer's behalf. And the customer repays them.
This means that, while the customer pays on a subscription, the vendor is paid as though it's a cash transaction. This is ideal for companies with intense growth plans that need an injection of funding.
However, even though you get paid upfront with finance, it is still worth offering staged payments on occasion. This is because you get the best of both worlds. Upfront cash as well as forecastable income.
You can offer a subscription with staged payments to a customer, whom you know well. And you can offer subscription-based finance to new customers, transferring any risk to a broker and a lender.
You will benefit from both immediate income and forecastable income when you vary your business model. And this, in turn, allows you to trade with consistency and confidence.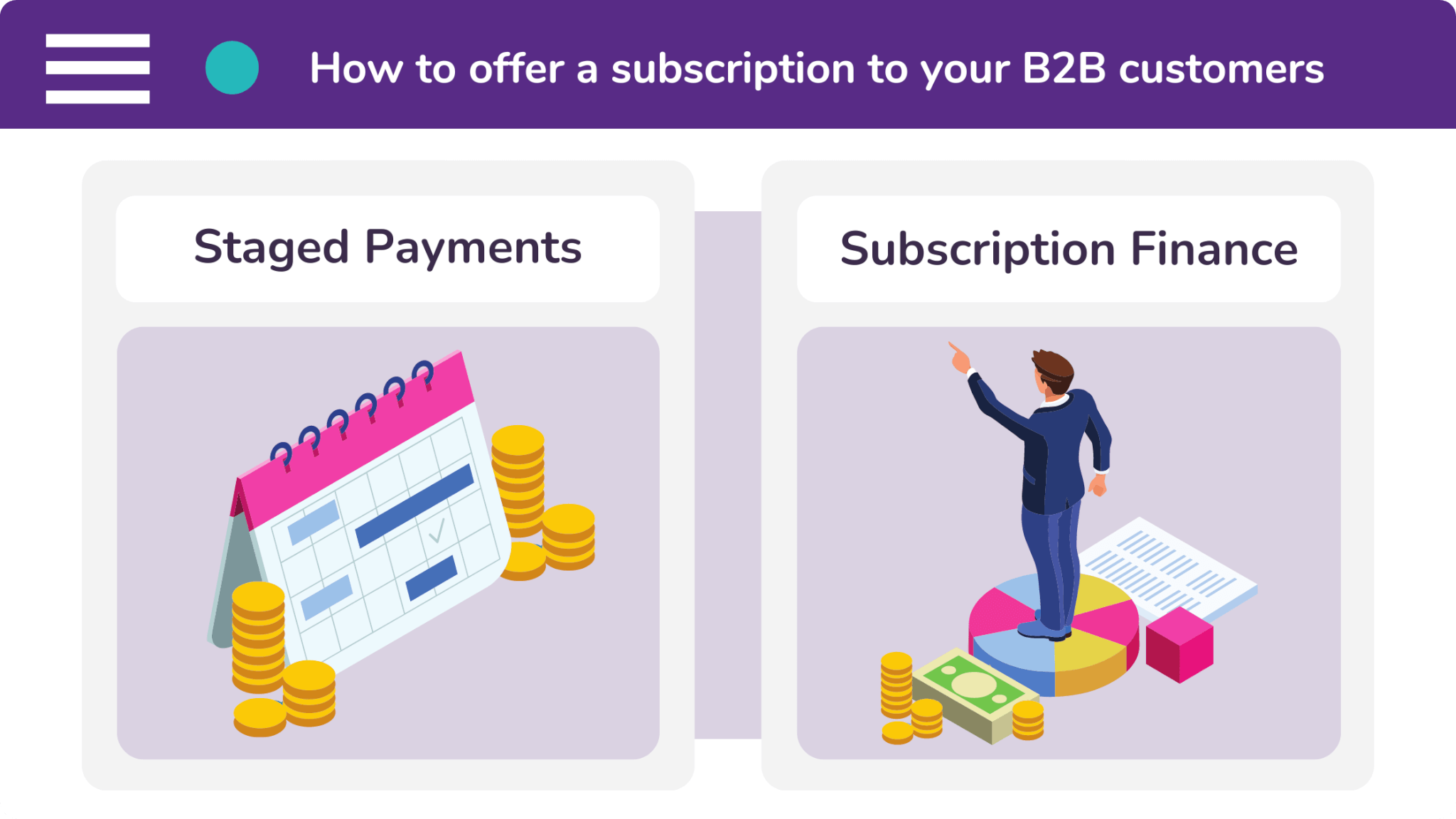 What are the benefits of offering subscription-based finance?
There are six benefits of offering your B2B customers subscription-based finance. These are:
Our research has shown that companies which offer finance benefit from a sales increase of 63%. This could give your business the income boost that it needs to invest in itself and grow.
Increase customer retention
Your customers will be hooked when they get a taste of your products and services at an affordable monthly cost. So when their term comes to an end, they will want to get a renewal or even an upgrade.
More opportunity to up sell
Customers who are paying on a monthly basis can add to their solution with small increases to the cost-per-month. As a result of this, up selling and cross selling becomes very simple with finance.
Subscriptions allow you to offer products and services to your customers in the form of a package. They will then pay for everything in installments. Your solutions are therefore more affordable and make you look more flexible.
When you sell your products on a subscription, you will keep the 'title'. This means that when your customer's agreement comes to an end, you can then sell the products on to gain as much value as possible.
The payments on subscription-based finance have significant tax benefits. This is because your products won't go on a customer's balance sheet. Instead, these payments are declared as operational expenses.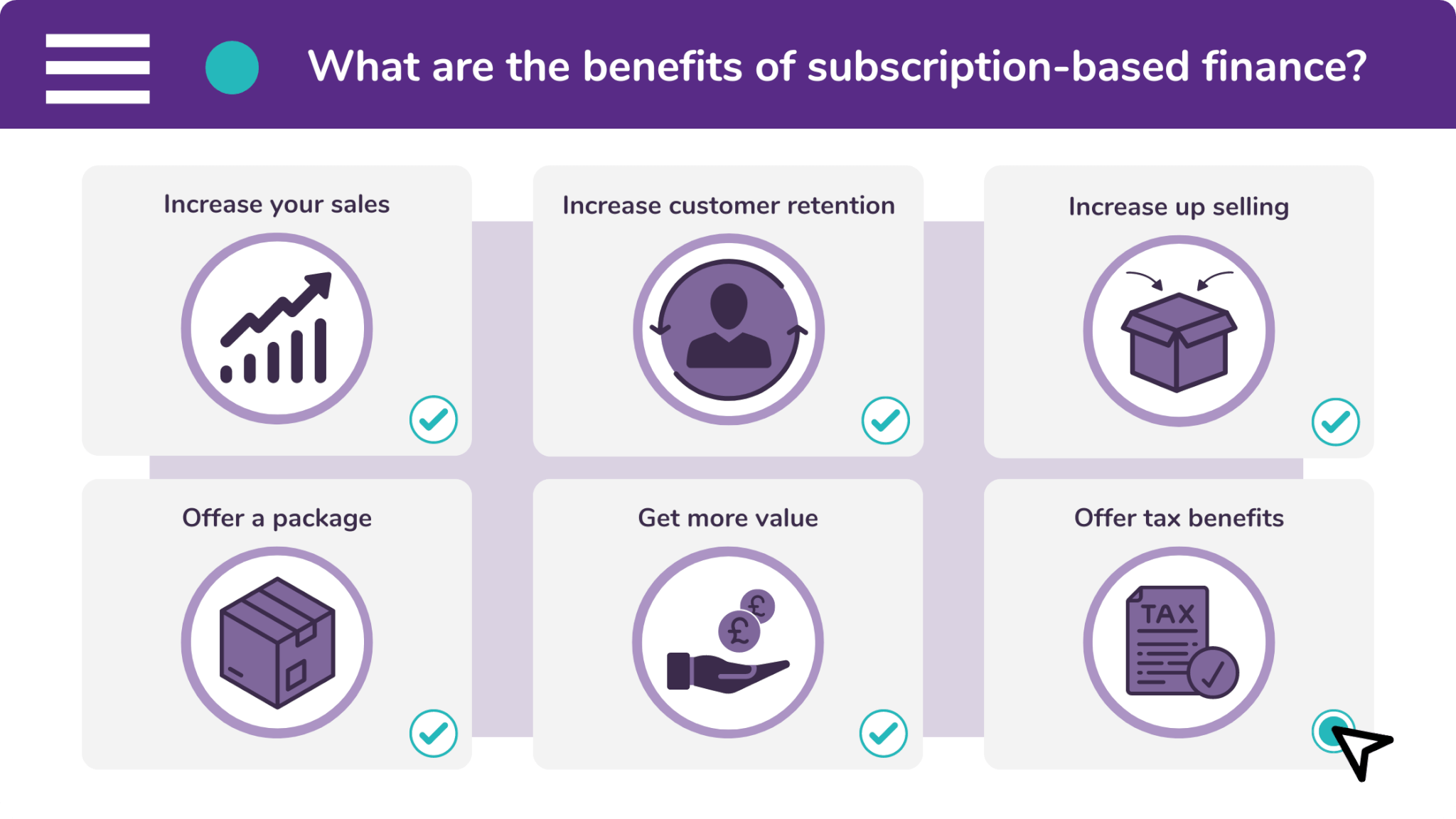 How to vary your business model
Synergi's B2B vendors offer finance on their products and services through our multi-award winning portal. The Synergi Portal is a sales enablement tool which is free to use. And what's more, it allows you to carry out four key functions. These include:
You can create a bespoke finance quotation for your customer. It will even have your company logo featured on it.
The Synergi Portal is integrated with Companies House and Credit Safe. You can therefore run credit appraisals on customers.
Tell your broker that a quote has been given the green light by converting it into a deal. Synergi will then secure the finance.
And last of all, you can track your deals through the underwriting and documentation process. This keeps you in the know.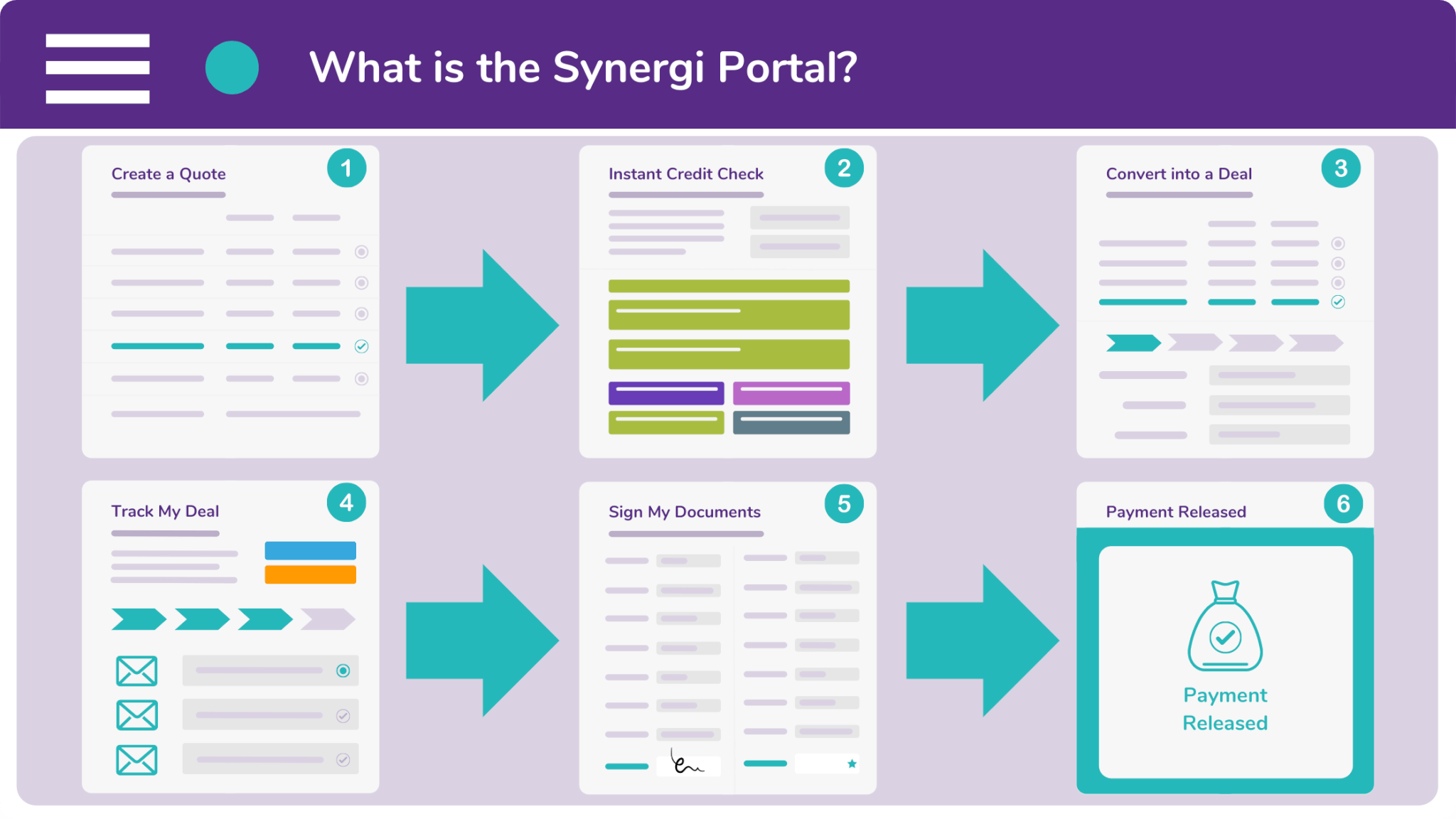 Would you like to start varying your business model? If so, then visit our enquiry page and complete the form to register for a demo of our Partner Portal. One of our friendly brokers will be in touch.
But if you would like to find out more, contact us today by calling 0333 242 3311. Or drop a line to our offices by emailing info@synergi-finance.co.uk. We look forward to working with you.