Synergi Finance is a commercial finance brokerage. But we are also a lender. We help businesses by improving their cash flow. And we also support B2B vendors by improving their sales performance.
We have access to more than 100 UK and European lending streams. And this provides us with a wide range of financial products and interest rates, which we can then offer to our customers.
We can help your company to spread the cost of important equipment. We can also support you in buying a commercial property. And what's more, we can strengthen your business's cash flow.
Furthermore, we can assist you with offering an affordable payment option for your B2B customers. They will pay for your solutions in manageable installments, whilst you get paid in full and upfront.
And this is all thanks to 'sales enablement finance'. This is an arrangement where a lender purchases an asset on the customer's behalf. The customer will then make their repayments to the lender.
Whatever your company's needs may be, Synergi can help you with the finance. Whether you need funding to kickstart a project. Or if you want to offer your customers an alternative payment option.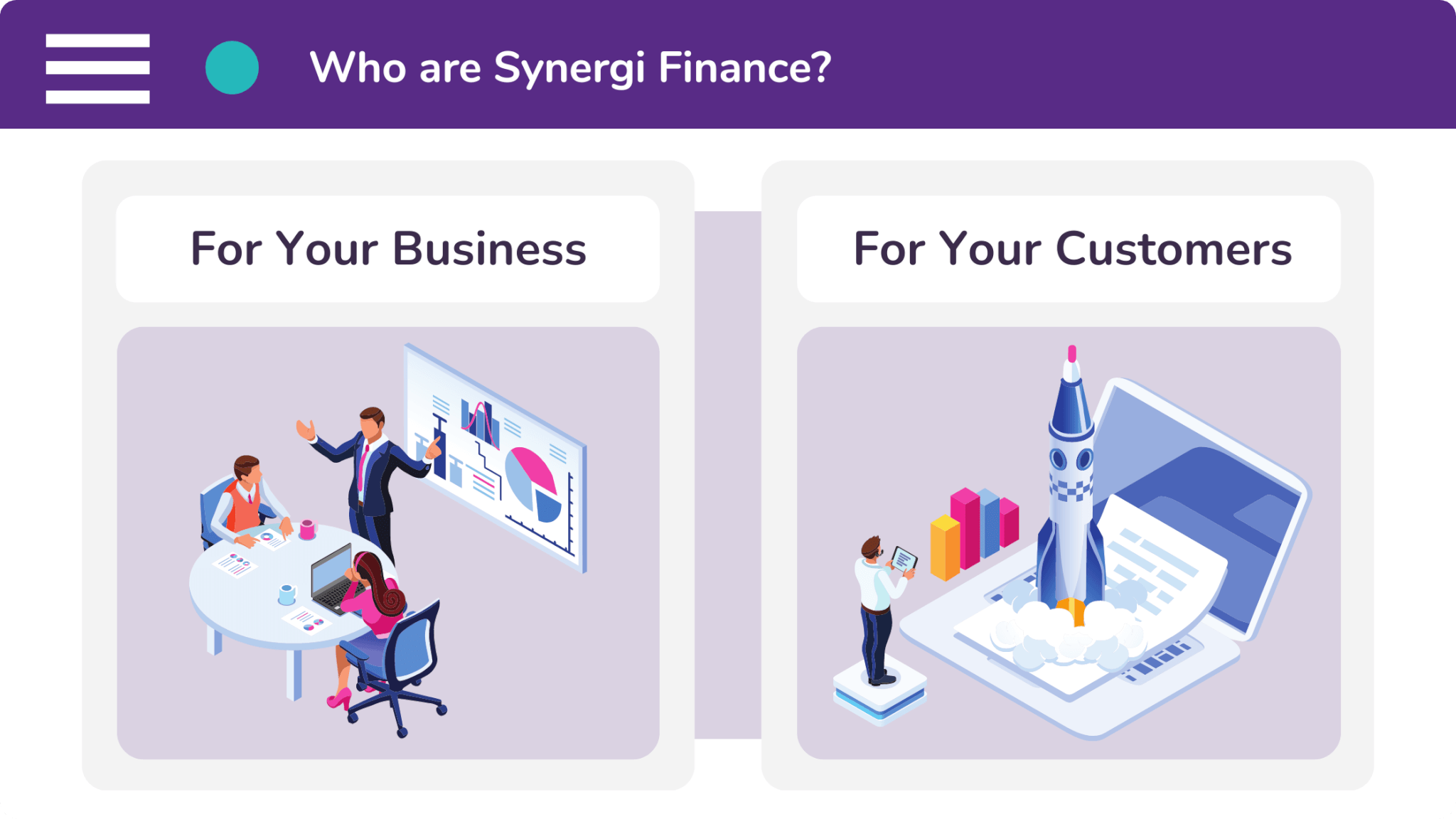 What is asset and commercial finance?
Asset and commercial finance can be used to improve your business. You can use it to spread the cost of important company equipment. And you can also use it to strengthen your cash flow.
You can use asset finance to invest in your company's balance sheet. This can be achieved by breaking down the cost of important products into a series of manageable monthly installments.
Asset finance will therefore protect your savings and increase your affordability. You can then invest into other areas of your business like product development, training, and recruitment, as an example.
Similarly, commercial finance can be used to strengthen your cash flow. You can get an injection of funding when it's needed. And this is achieved through loans, invoice finance, and revolving credit.
If used correctly, these facilities will provide a consistent amount of capital to flow through your business. And as a result, this will give you the ability to trade smoothly, as well as confidently.
And on one final note, Synergi can also arrange property finance facilities. Whether that includes the likes of a commercial mortgage, a buy-to-let mortgage, or even a commercial bridging loan.
If any of these financial products sound like they would be of use to your business, send an enquiry.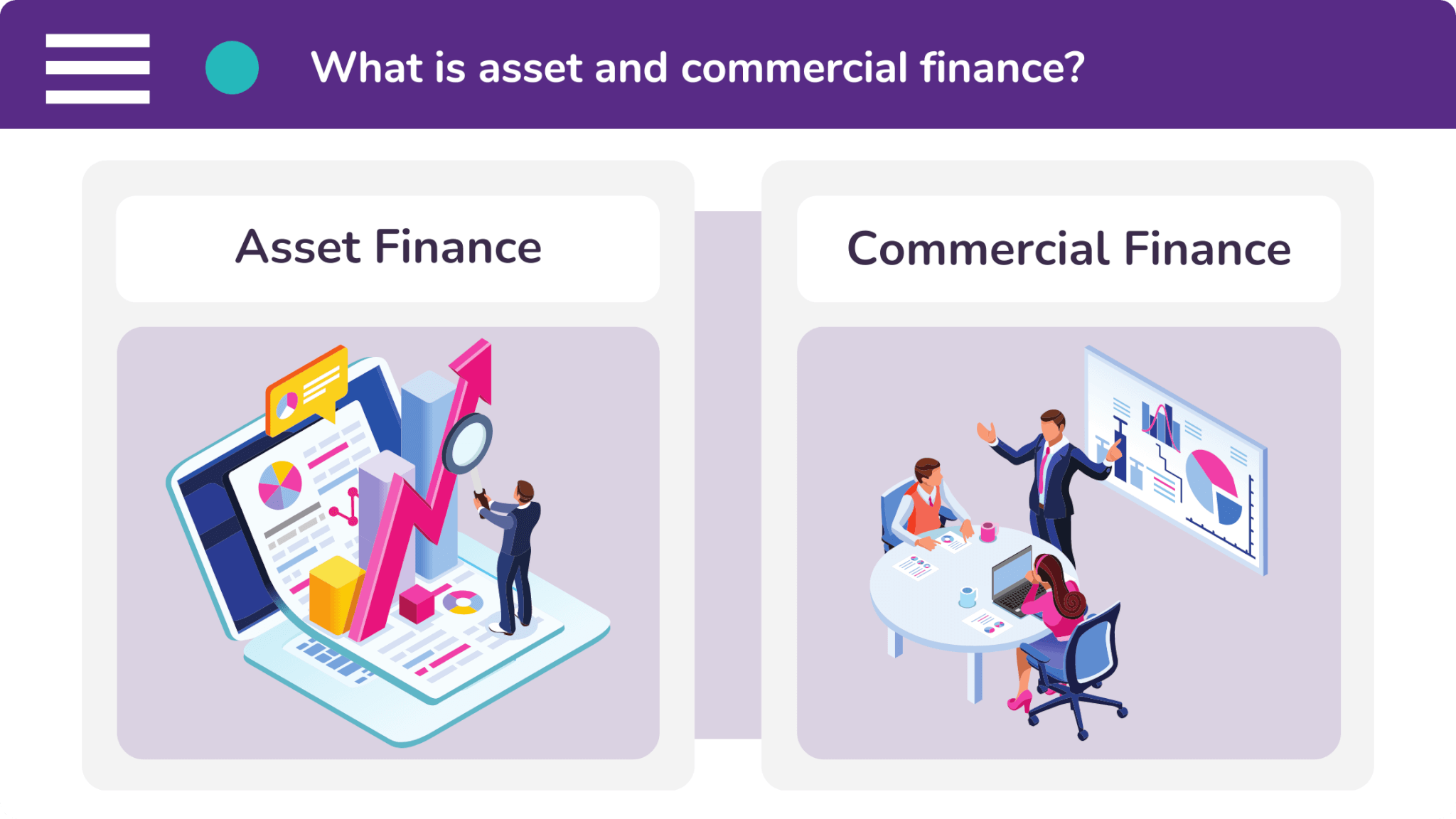 What is sales enablement finance?
Sales enablement finance is commonly used by the sellers of B2B solutions. These vendors typically offer their customers a finance payment option in order to improve their sales performance.
B2B solutions are notoriously expensive. Therefore, salespeople often encounter budget objections and hesitation. These problems are a drain on their valuable time and stop them from closing further sales.
Sales enablement finance overcomes these obstacles by breaking costs down into a manageable series of installments. As a result, the products look much more affordable and much more appealing.
Vendors who offer finance subsequently go through quicker transactions. They receive full, upfront payment within 24 hours, giving salespeople time to make prospecting calls and pursue other opportunities.
How is this possible? Simple. We invite a commercial lender into the transaction. The lender will buy the solution from the vendor. And the customer will make their monthly repayments to them.
If you would like to book a demonstration of our Synergi Partner Portal, get in touch.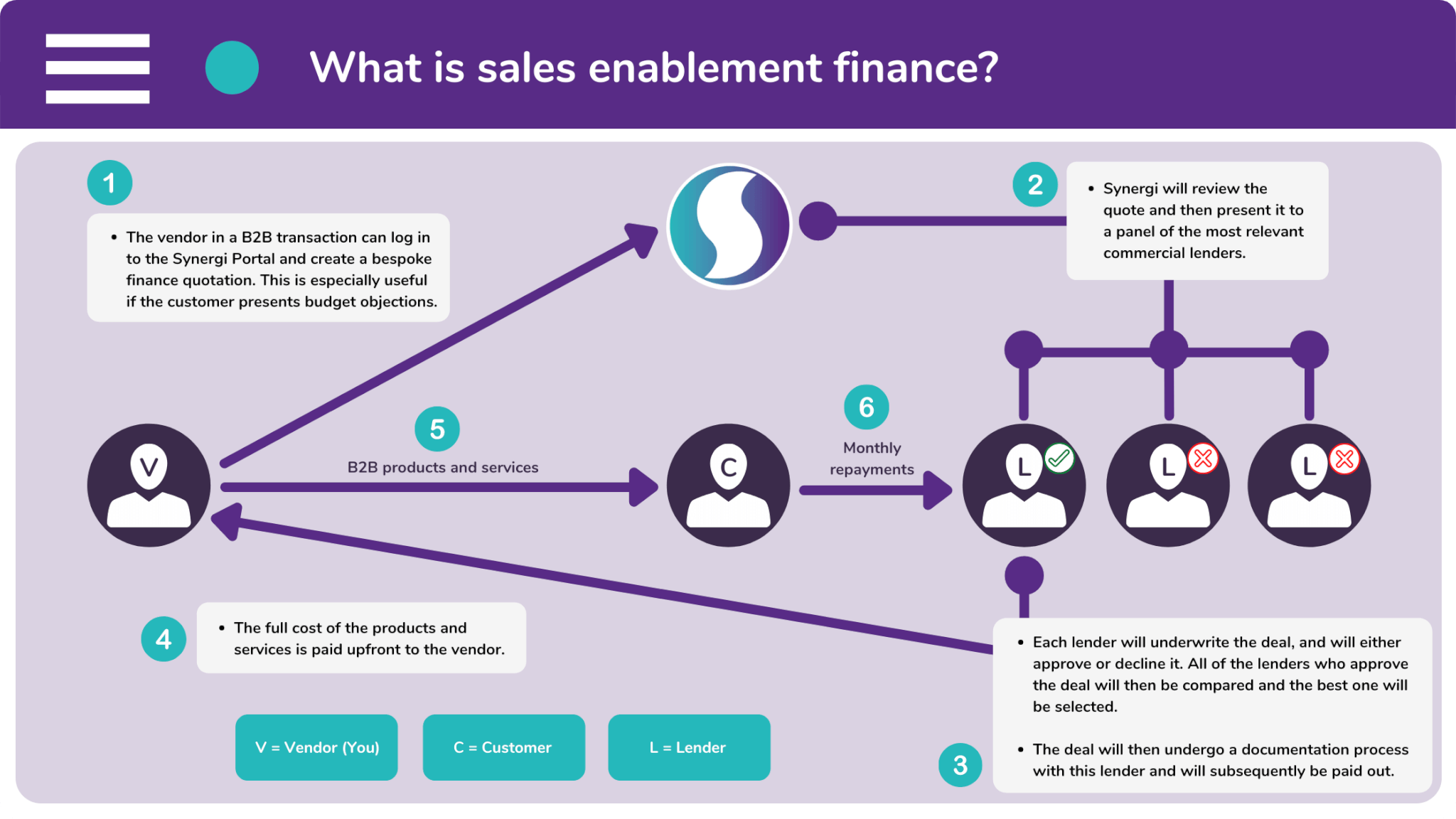 Learn more about the finance options that are available to you and your business by calling one of our friendly brokers on 0333 242 3311. Or drop us a line by emailing info@synergi-finance.co.uk.